A well-balanced emotional and mental health from the first years is crucial to children's lifelong academic performance. Yet, it seems that many pandemic babies are affected by developmental delays. The problem is that if people - and kids in particular - cannot manage emotional responses, they cannot think properly and therefore have more learning difficulties.
As most parents know today, the first 1,000 days of a child are critical. Researchers at Brown University in Providence, Rhode Island, found that children born during the covid pandemic have reduced verbal, motor, and cognitive performance. The study also identified the children's disrupted educational experiences, lack of interaction with others, and limited explorative play compared to their peers who were born pre-pandemic.
To teach kids learn, parents and teachers must first teach them to manage their big emotions, both positive and negative. Emotion is really essential in all we do, in our behavior, thinking, and learning. Emotion is children's first language and is directly related to their learning skills. The capability to control emotions is necessary to build a positive sense of self, which helps children succeed at school, in their careers, and in life.
Children's brains, from birth to three years, are very malleable, shaped by daily experiences. This is why it's so important to develop the building blocks of emotional intelligence very early. Children learn through observation and imitation and are great emotional detectives, quickly tuning into the behaviors of the adults around them. Those relationships are fundamental to their brain development, learning, mental health, well-being, and happiness.
By getting solid emotional foundations early on, kids will have a precious toolkit to understand and control their emotions. Parents, caregivers, and teachers have many opportunities to boost the emotional intelligence of their children. Using storybooks to teach them about facial and body language and asking them questions while reading is a good example. But to fulfill this mission efficiently, adults first need to be well aware of their own emotions. Only people able to manage their own feelings and emotional balance can truly guide children in developing their self-regulation.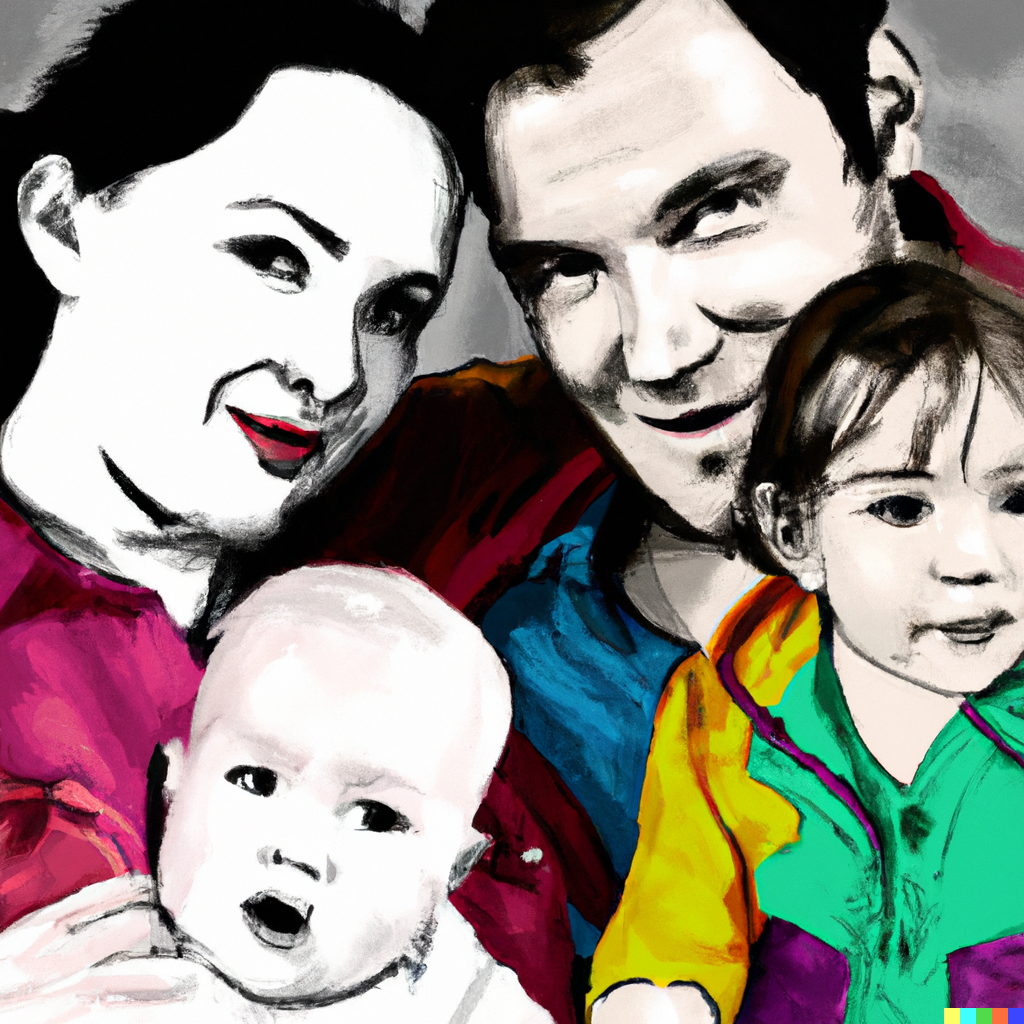 Picture: Mom and dad with a baby and a toddler (DALL-E & ChildUp.com - 2022)