A few decades ago, child development research mostly ignored fathers. Until the 1970s, their role in their offspring's development was hardly studied. Dads' main job was to economically support mom, who would be on her side the emotional pillar for the kids. According to Marian Bakermans-Kranenburg of Vrije Universiteit Amesterdam: "Half of parents are fathers, yet 99% of the research on parenting focuses on mothers."
Recent studies are showing that, against conventional ideas about education and gender, male caregivers play an important role in their children's behavior, happiness and cognitive skills, and can shape their lives from the start. Today, dads are celebrated for being caring, sensitive and hands-on, which seems like a good news. And it is not just fathers who have moved into the spotlight. Single-parents, step-parents, grandparents and same-sex parents have also helped scientists understand what can really make a child thrive, and this is not just a single caregiver.
Babies with emotionally involved fathers tend to have better mental development as toddlers and less behavioral issues later on, compared to their peers whose fathers behave in more a detached way. And older kids benefit too. Those who have more supportive dads tend to be more satisfied in their life and have better relationships with other kids and teachers.
Previous studies have shown that mothers and fathers tend to interact differently with young children. While moms bond through gentle caretaking, dads typically bond through play. In any case, involving fathers as early as possible seems to have many advantages for the kids. Moreover, play, whether it is tender or boisterous, is particularly beneficial for them.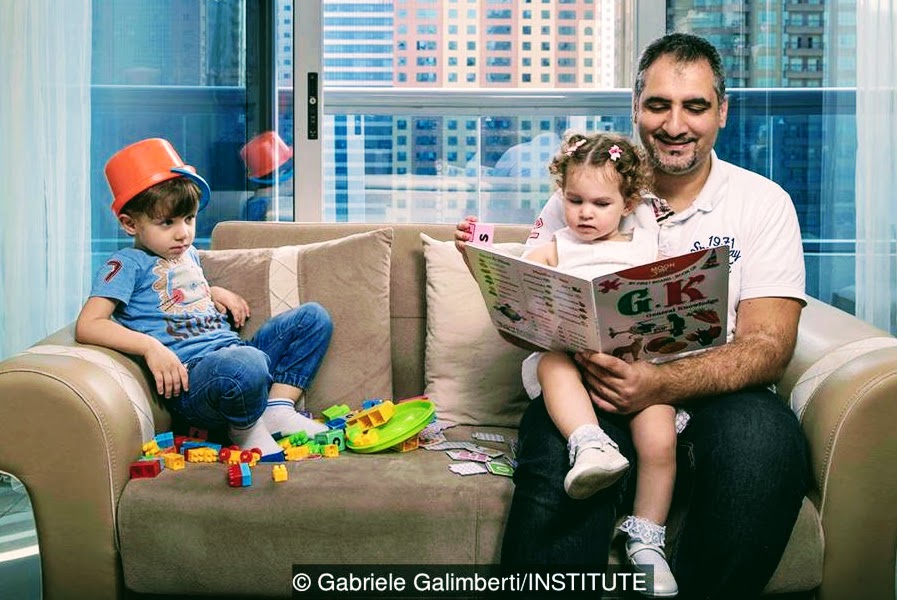 Picture: Fouad Kuyali reads to his children Mazen and Julie in their home in Dubai, where he moved from Aleppo, Syria (Gabriele Galimberti/INSTITUTE, w/Effects)