Due to the ongoing pandemic and social isolation, family life has changed dramatically. Fortunately, kids can thrive in a great variety of settings with little stress in a supportive parent-child relationship, which may even be beneficial in building resilience in front of new challenges. Here are 7 interesting tips to reduce parenting stress and promote healthy development in the time of COVID-19.
1. Look at and notice what is going well with your kids
Tell your children you appreciate their effort. This will promote a more positive mindset and behavior and enrich your family relationships.
2. Plan together with your kids and give them choices
Kids benefit from being able to predict small things while having some control over them. It's great to make a daily schedule, or to discuss upcoming activities a couple of times a day with your children. Organizing a few sessions of high-quality playtime throughout the day can help them manage their emotions, control their behavior, learn cognitive skills, while strengthening parent-child bonds.
3. Give your kids clear directions
When you would like your children to do something, it would be fine to only ask them once. Giving clear directions should increase the likelihood of this to happen. You need to get close to your children and make eye contact first. Then, give them a specific and time-limited task of only two or three steps, depending on your children's age and level of ability.
4. Know how and when to take a step back
It's important to pay attention to what your body feels like and what your mind sounds like before reacting. Escalating situations are not the best way to a pleasant day.
5. Avoid reacting when it's not necessary
Why not simply ignore MINOR challenging behavior? Another option is to describe what is happening, and offer smart solutions.
6. In case of need, reset and move on
Harsh words and outbursts may happen, even from good parents. In such cases, a little apology and a gentle move may help to start new activities in a better atmosphere. On the other hand, it's not a wise strategy to force an apology from your kids. They probably need a few more discussions and explanations.
7. Show plenty of affection
Physical comfort helps to manage stressful situations and control kids' strong emotions.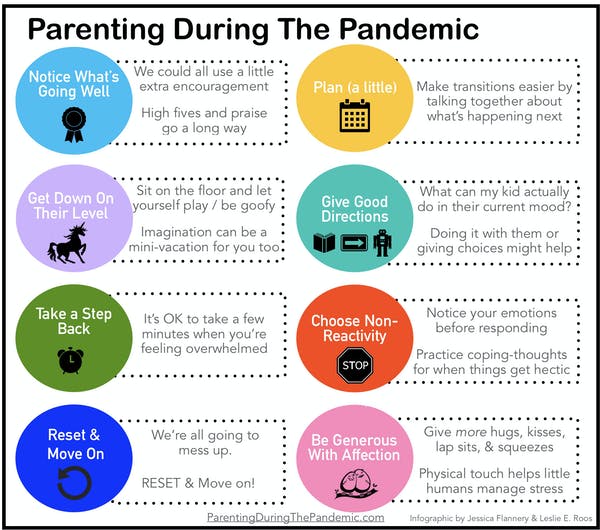 Picture: Tips to reduce parenting stress during the coronavirus pandemic (The Conversation)